What Should I Write About?
I'm not a big believer in "story starters". I believe that the best ideas are living inside you. Your challenge is to dig them out. Do the writing only you can do. But every writer gets stuck from time to time so I've included a few ideas to jump-start your imagination. You might try to write about:
A family story
A particular tradition in your family.
An artifact (arrowhead, ring, antique, etc.). Important objects in our lives often provide excellent material to write about.
Special place: special room, attic nook, inside of a tree, scary closet. You might start by quickly sketching a map of a house full of memories. Mark those rooms where something important  happened to you.
Brother, sister, or special relative. Remember: think small. Focus on one aspect of that person, or one experience you had with him or her.
Your place in the family. Are the oldest kid in your family? The youngest? Are you a middle child? An only child? Were you adopted?
Best friend. (Did you ever get in trouble?)
Moving. Did you leave behind a best friend when you moved from your old house?
A disastrous time you had at camp or on a family vacation.
Horrible haircut (or other mortifying experience)
An injury. Did you ever have to go to the hospital
Important first: your first day in school, the first time you rode a two-wheeler, etc.
Favorite pet, or a pet you once had.
When your family changed: your brother went off to college, grandma came to live with you, etc.
What you are (or used to be) afraid of.
One thing you never want to do again!
How To Use Your Writer's Notebook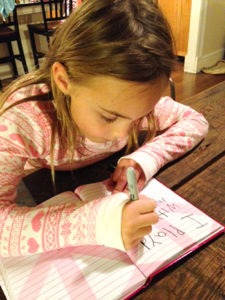 Use your notebook to breathe in the world around you. You can write about:
What amazes/surprises/anger you
What you wonder about
What you notice
"Seed Ideas" or "Triggers" to generate stories or poems
Small details that intrigue you
Snatches of talk you overhear
Memories
Lists
Photos, articles, ticket stubs or other artifacts
Your own sketches, drawings or doodles
Quotes or inspiring passages from books or poems
Once you have gathered a lot of writing in your notebook, try the following ideas:
Reread to dig out the best material
Experiment with new kinds of writing
Try to write something beautiful but don't expect all your writing to be great. Give yourself permission to write badly!
Write about personal things–fears, nightmares, or dreams–that contain strong feelings
Write about writing Remember these tips:


Keep your notebook with you so you can write at any place and time.
Pull your notebook out whenever you have a few minutes with nothing else to do.
The notebook you keep should reflect you. If you like to draw, draw in your notebook.
Writing can be fun. Your notebook is a place to enjoy writing.
Prewriting Strategies For Your Writing
Write in Your Writer's Notebook. A writer's notebook gives you an easy, informal, no-pressure way to start thinking about a topic. Great for brand-new "seed ideas".
Talk It Out. Sometimes I'll get together with a friend to kick around an idea I'm thinking about. There's a little danger here–if you talk too much you can talk the mystery out of an idea. I have found that a little talk goes a long way.
List Ideas. Lists are a great way to gather material. The idea is to generate ideas. Don't worry if some ideas are better than others. And don't worry too much about getting the ideas in the right order.
Make A Web. You may have done this before. Put the main idea in the center, and make a "spoke" for each connected idea.
Make A Simple Time-line. I find this idea very helpful for writing stories. Jot down when each important event happened. Now, where do you want to start the writing? At the beginning of the timeline? In the middle? At the end?
Three by Three by Three. Give yourself three minutes to write three ideas on three different topics. Great for generating ideas.
Free Write. Give yourself a short amount of time (five to seven minutes) to jot down ideas, words, fragments related to a topic. If you doing this right your pen should never leave the page. One friend of mine calls it "Hot-Penning". Don't think: write! Let your pen go wild. Later you can go back and circle any parts you want to use.
Important Note:
I don't use each one of these ideas each time I write. (Often I just start writing.)  You will probably find that some of these ideas work better than others. You will have to try them out and see which ones work best for you.
Ideas For Revising Your Writing
Many young writers think of revision as all hard work and drudgery. But revision is more than just a way to fix a broken piece of writing. It's also a way to honor a good piece and make it even better.
Here are some ideas to experiment with:
Change the beginning: experiment with different kinds of leads. You might try sound effects, or an intriguing first sentence.
Change the ending: maybe a circular ending, for example, or a surprise ending might work best for your writing.
Add a section. Have you left out something important?
Remove/delete a part. A piece of writing is like a rose bush–it grows healthier after you prune the unnecessary parts.
Revise for voice. Are there places in the writing where you stop sounding like you and start sounding like someone else?
Change the order. You don't have to tell the story in the order it happened. Try starting in the middle, or try starting at the end and flashing back to the beginning.
Change the genre. The story you are working on might work better as poem, an information piece, or a letter.
Change point of view. Try telling the story through the "He" or "She" point of view, instead    of the more common "I".
Change the tone: make it funnier, more sarcastic, more serious.
Change the tense: from past ("I walked in to the    house") to present tense ("I walk into the house"), for example.
Slow down the "hot-spot" or crucial moment of   the story using dialogue, emotion, and  frame-by-frame detail.
Break a big topic (All About My Family, for example) into chunks or chapters. Think of each chunk as its own piece of writing.
Publishing Your Work
You don't have to have a book in the bookstore to be published. Getting published means "going public" so your words and ideas can be communicated to many different readers.
Here are some ideas for how you can do that–I'm sure you will think of your own ways.
Photocopy your writing and share it with friends or family.
Mail your writing to someone special. You could take a poem, make it into a card, and send that.
Tape yourself reading your story or poem and send the tape to an interested reader, adult, relative, etc.
Use your writing as the basis for an illustrated picture book for a younger sibling, or friend.
The school newspaper, yearbook, or local newspapers often publish student work. Find out what kinds of writing they publish, and how they want you to submit it.
Magazines that publish work by young writers include Cricket, Stone Soup, and many others. See if your librarian has a copy. Read the magazine carefully to see what kinds of things they publish. Might your writing fit in this magazine?
Check out contests put on by bookstores, local organizations, magazines, or national groups.
For information/nonfiction writing, you can make a "Teaching Poster" and post it in a place where people will read it. Study the teaching posters in your classroom before you make your own. **You'll need your teacher's cooperation for this last idea.
Classroom Author's Day. Some classes have one on the last Friday of every month. Chips, cookies, ginger ale make this a special occasion. Set a deadline and make sure everyone works toward it. Allow time for each student to read a short piece out loud. Give classmates and guests 3 by 5 inch index cards so they can write a response. At the end, each reader gets to read the stack of response cards. Author's Day celebrations can be a blast but there's a lot to do to get ready: write invitations, invite special guests, send out a press release to the local newspaper.
Recommended Books For Young Writers
WHERE DO YOU GET YOUR IDEAS by Sandy Asher (Walker & Company).
IN YOUR OWN WORDS: A Beginner's Guide to Writing by Sylvia Cassedy (Crowell). ?A thoughtful book jam-packed with terrific ideas for your writing.
MARKET GUIDE FOR YOUNG WRITERS by Kathy Henderson, Betterway Publications, Inc., PO Box 219, Crozet, Virginia, 22932. ?This book has a wealth of information about magazines, contests, etc. Lots of smart advice if you hope to get your writing in print!
LIVE WRITING: BREATHING LIFE INTO YOUR WORDS by Ralph Fletcher (Avon Books For Young Readers). This book is a sequel to A WRITER'S NOTEBOOK. It will show you how to improve the different parts of your writing. There are chapters on how to write a strong lead, how to craft an effective ending, how to bring alive your characters, and another one on how to write with voice.
The MEET THE AUTHOR SERIES published by Richard C. Owens Publishers. This series gives you a close-up look at many authors you will recognize.
The AMELIA BOOKS by Marissa Moss (Tricycle Press): AMELIA'S NOTEBOOK, AMELIA WRITES AGAIN, AMELIA TAKES COMMAND, and others. Written with a kid's zany sense of humor, these books crammed with wonderful ideas for young writers.
The WriteSource 2000 Books. Good, all-purpose, inexpensive books with information different kinds of writing.
POETRY FROM A TO Z: A GUIDE FOR YOUNG WRITERS by Paul B. Janeczko (Simon & Schuster). Also A SCH0LASTIC GUIDE: HOW TO WRITE POETRY by Paul B. Janeczko (Scholastic). Paul Janeczko has solid advice for anyone who writes poetry.